Whether we're listening to a podcast while driving, listening to music while cooking, or watching a show that will help us relax after a long day at work - Content consumption is integral to our routine, regardless of the amount of attention we have to give or the mood we're in. We expect our content to not only entertain us, but to flow with us throughout our day, fit into our routine, and adapt to our emotions. If we've had a long day at work, we'll watch a drama to help us get out of our heads. If we're doing chores around the house, we'll rewatch The Office for the fourth time so we can be entertained despite our wavering attention.

We began envisioning a future where TV content would synthetically adapt to user's context, specifically their emotions, attention, and personal viewing preferences.

Considerations
emotional context
It's no secret that we use TV to feed our emotional needs. Whether we put on a tearjerker to wallow in our sadness, or counteract it with something happy, it became clear that users let their mood dictate the content they consume and anticipate that content would further regulate or change to adapt to their mood in the future.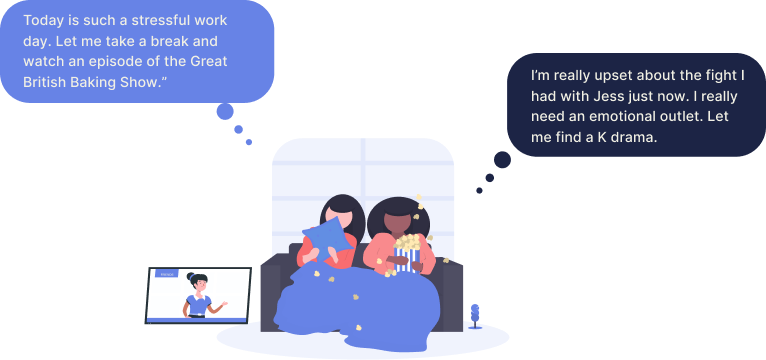 Emotional responses and consequential content adaptations became a focal point of our prototyping for the future of digital television experiences. Users weren't too keen on plot changes. TV is in a golden age, and most wanted to experience what the writers intended, but there were several other ways we could adapt and elicit this emotional reaction including changes to:

Directing the plot on particular branch paths can be a dramatic adaptation for users during a content consumption experience and while stylistic adaptations are slightly more subtle, they can make just as much of an impact on a user's experience by conforming to a user's current and desired emotional state. Plot changes have more value on lower effort content or rewatches, a supplement to watching with the original plot and then shifting to show the user something new or interesting.